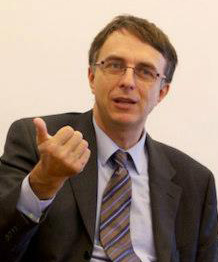 Dr. Marco Paret: Founding Director of the ISI-CNV International Institute for Neuro-Linguistic Programming (NLP), Hypnosis, Communication - Non Verbal (CNV), Leadership and Coaching. World's main authority on mesmerism and fascination, that he diffused again from his Institute in the world.
A graduate of Turin's University, Italy, Dr. Marco Paret's fascination with the underlying psychological dynamics of human interaction within the corporate world of business and society at large has moved him to train with many of the worlds leading experts in the field of applied psychology. When Marco Paret (now an NLP Master Trainer) first came across NLP and hypnosis he immediately realized the inherent and untapped potential of combining these two disciplines. His constant exploration of these potentials has led to new discoveries and made valuable contributions to the field.
A passionate student of linguistics, fluent in English, French and German as well as a working knowledge of Spanish, Russian, Polish and Czech , Dr. Paret has made extensive study of the grammar and other linguistic structures of Classical Arabic, Dutch, both Classical and Vulgar Latin, Greek, Ancient French, Sanskrit as well as other languages and dialects less known and/or no longer in use.
His skill in understanding the underlying mechanics of language(s) has afforded him the ability to work with the subtle relations that exist between grammatical and syntactic structures of language and thought — enabling him to develop new effective pattern sets that interweave hypnotic communication techniques with NLP as well as the creation of a completely new didactic methodology for the teaching of foreign languages.
The conducting of an in-depth study of the Enneagram and its applications in a modern perspective led Dr. Marco Paret to develop the Instant Enneagram (a sensory based model of the Enneagram) and explorations of hidden traditions have inspired the creation of new techniques pertaining to state-of-consciousness navigation.
Dr. Marco works with many large international companies including...

Over the years Dr. Paret has become acquainted with a great many of America's leading hypnotists through the holding of numerous conferences within the USA as well as other countries. Having held high quality training in many Italian cities and appearing regularly on Italian television to share his professional opinion as an expert in hypnosis and NLP, Dr. Paret has secured an agreement with the influential Italian National Trade Union SINAPE (the largest union for emerging professions) and commissioned by the Regional Secretary for the delivering of NLP and hypnosis workshops aimed at training professionals in Turin city as well as being responsible for the broader public education of the subjects he teaches.
Dr. Paret is also President of the Association "Programmazione Neurolinguistica" and is responsible for the conception and development of a new professional grading: Expert in Non-Verbal Communication with Specialisation in Graphology. This grading has already been formalised as a career rank or title in the county of Lombardia. Programmazione Neurolinguistica is listed by the CNEL as an association most representative of emerging professions.
Founder of the ISI-CNV Institute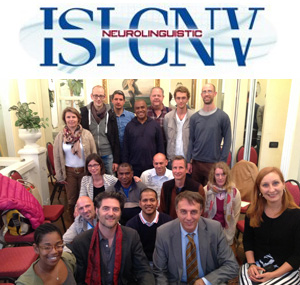 When Marco Paret founded the ISI-CNV in 1992 he had no idea just how successful it would become. Considered by many to be the ideological father of NLP-3, the new paradigm of advanced NLP, Dr. Paret's knowledge and experience has enabled the Institute to distinguish itself from other organisations by its numerous successes both in the field of training as well as that of research. These successes as well as years of tight co-operation between ISI-CNV trainers led to the formation of a sister organisation solely devoted to exploration and research within the field. Officially opened in 2004, the ISI-CNV Centre for Research is quickly becoming a world leader in the depth, scope and quality of its ongoing work.
Dr. Marco Paret's Credentials
First Representative of NGH in Italy and France
Awarded Trainer of the Year by the prestigious American organisation NFNLP
Member of the French Syndicate of Psychotherapists and officially recognised as a trainer in Psychotherapeutic Interventions for therapists by the French Ministry of Labor
Chief Organiser of the 2004 International NLP-3 Coaching Conference in Nice where the formulation of a historic agreement-protocol in the field of Coaching was achieved.
Practicing Psychotherapist in Nice, French Riviera
Campus Coordinator of two American educational institutes located in the French Riviera region.
Dr. Marco Paret Official Offices